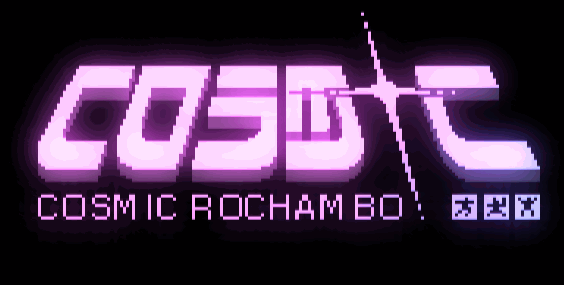 Cosmic Rochambo
A downloadable game for Windows, macOS, and Linux
A game of cosmic battle. Ram your opponent out of the ring, into oblivion. Attack? Parry? Dodge? Ro-Cham-Bo

---
Keyboard Controls:

Player One

(W/Z)(A/Q)SD: movement
SPACE: dodge (tap to parry)


Player Two

ARROW KEYS: movement
COMMA: dodge

Joysticks should work out of the box, left stick to aim, any button to dodge. If your joystick doesn't work, let me know and I'll address it.
---
FAQ:
Q: Isn't it spelled "Rochambeau"?
A: Cosmic Rochambo bears no resemblance to your Earth-game.
Q: Why are we fighting?

A: Because you must.
---
Send me videos of epic matches!
Reverse Sale FAQ
Will I get keys for the other platforms for buying this?
Sadly, no. I wish I could offer cross platform keys for purchasing this, but due to the nature of business with the various platforms this is not feasible. You will, however, earn a warm and special place inside my heart.
Can I help out in any other way?
Absolutely! Reach out to me on Twitter (@seandick), record a video of you and your friends playing and post it somewhere (don't forget to link me to it!) Buy a copy for your friends, or even just tell them about how awesome it is.
This is way too expensive!
I'm really sorry you feel that way :( The game has been available for basically free for several years, and I've put quite a lot of time into it. If you're really hard up and just absolutely still want to play it, get in touch.
This isn't expensive enough!
Alright moneybags, show me what you got.

Purchase
In order to download this game you must purchase it at or above the minimum price of $10 USD. You will get access to the following files:
cosmic-rochambo-windows.zip
97 MB
cosmic-rochambo-osx.zip
96 MB
cosmic-rochambo-linux.zip
110 MB